Our hearts and prayers engulf the Texans who lost their families and homes from the horrendous flooding.
My daughter's friend grieves for her friends in Wimberly, Texas, because they have lost both.
Waiting to be rescued from their roof, they watched the waters rise from 13 to 40 feet in just a few minutes. Those floods tore the house from its foundation. The waters swept the house down river, and the dad/husband fell off the roof and watched as his wife and kids kept floating. He was found twelve miles down river and is in the hospital. His wife and two children have not been recovered.
To read more about this family, click here to see a CNN video.
Isn't it crazy how fast our worlds can crash around us? Even if it is not a natural disaster, accidents and illnesses can stop us in our tracks.  The illness or death of anyone we love catapults us into the depths of gloom, depression, and fear.
When my son died in an early morning car accident, my family's world crashed around us. How and Why did this happen? How  and Where would we find the will to survive? I still remember thinking I had to console his sister, father, friends, and family. But how could I "give away" comfort when I couldn't feel anything? I felt numb and abandoned.  After I connected to my feelings again, I was afraid to grieve (cry) for fear I would not be able to stop! I believe my initial lack of feeling was God's way of protecting my emotional, physical, and spiritual being.
Through the love of my family and God's mercies and compassion, we all survived. It was the worst experience of our lives, but if I can share four important principles that helped me, the pain will not be wasted.
Not every crisis comes from a natural cause or the death of a loved one. When someone we love is ill or incapacitated, our lives are drastically changed.Some crises are financial in nature.
If you are faced with a crisis,
REMEMBER:
1. Circumstances won't consume you.
They MAY stop us in our tracks trying to suffocate us, but God has promised He will NOT strand us. When we feel abandoned,
DWELL ON:
Lamentations 3:22
"Because of the Lord's great love we are not consumed,
for his compassions never fail."
2. GOD'S mercies/blessings are new every morning.
They are ample to get us through one day at a time. That is why sleep and exercise are crucial. The more we force ourselves to eat and exercise, the better we sleep. During sleep our minds, emotions, and health are restored to face the next day.
DWELL ON:
Lamentations 3: 23 
"They are new every morning;
great is your faithfulness."
3. God cares about the details.
It is hard to believe this when we are tormented by doubts and fears. These are the times when our faith can grow. When a tree doubles over in strong winds and still survives, its roots are strengthened.
DWELL ON:
Matthew 10:29,31
"Are not two sparrows sold for a penny? Yet not one of them will fall to the ground outside your Father's care."
"So don't be afraid; you are worth more than many sparrows."
Luke 12:7
"Indeed, the very hairs of your head are all numbered. Don't be afraid; you are worth more than many sparrows."
4. God knows how it feels to grieve.
Jesus wept because his friend, Lazarus had died and was already buried by the time he got there. Even knowing that he would resurrect Lazarus, Jesus cried because He loved Lazarus and his family. It's okay to grieve and cry because we love.
DWELL ON:
John 11:34-36
"Where have you laid him?" he asked.
"Come and see, Lord," they replied.
Jesus wept.
 Then the Jews said, "See how he loved him!"
Holy Bible, New International Version®, NIV® Copyright ©1973, 1978, 1984, 2011 by Biblica, Inc.®
---
CALL TO ACTION!!!
PLEASE FORWARD THIS TO ANYONE YOU KNOW WHO MIGHT NEED TO BE ENCOURAGED OR COMFORTED.
[/vc_column_text][/vc_column][/vc_row]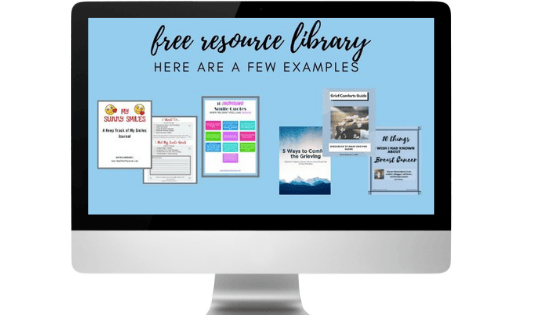 Live healthier, happier, and better! Sign up with your best email to receive weekly email newsletter TIPS and TOOLS for HELPING your body, mind, and spirit! Get access to our Resource Library with free downloads! You may read my Privacy Policy here.