Photo Courtesy of Deb Torres
Doubts…We All Have Them
To doubt is to feel uncertain, uneasy, unbelieving, fearful, or insecure. How do we overcome our doubts? Since we all have them, how do we overcome them and keep them from robbing our peace, joy, and hope?
As Christians, we sometimes try to hide our doubts, thinking we look less faithful and grateful. But, as Henry David Thoreau once said,
"Faith keeps many doubts in her pay. If I could not doubt, I should not believe."
 Doubts…How to Overcome Them
For example, recently I have experienced doubts and fears about my cancer returning. God is good, and for three years since I had breast cancer, my husband and I have enjoyed a healthy lifestyle. My oncologist orders bloodwork every six months to keep me active and cancer-free.
But, based on my last set of blood tests, she saw something that led me down a path of scans and tests to make sure cancer has not returned. I won't bore you with the details. Still, as I was praying about this podcast's content, my daily devotional led me to the solution for my doubts, fears, and what-ifs.
It is in Psalms 94:19:
"When doubts filled my mind, your comfort gave me renewed hope and cheer."
Where to Turn for Comfort
Have you recently had doubts or fears?
Where do you turn for comfort?
What helps you overcome those doubts?
I recently learned a way to think and pray over a Bible Verse. It is called Lectio Divina, which means divine reading. The steps involved are simple and meaningful and will be the subject of another podcast.
But as I closed my eyes and turned this verse over and over in my mind, just as you might turn a precious gem or artifact over and over in your hand, I waited for specific words to pop out in my mind.
Then it happened! From Psalm 94:19, "when doubts filled my mind," spoke to me. I realized that when doubts fill my mind, there is little room for God's voice. Doubts are like cancer cells – we all have them! But when they multiply, they begin to take up precious space meant for health, love, and hope. In the midst of my mind crowded with doubts and my worried and fretful heart, God finds a way to comfort me in the stillness.
The next day, I prayed about this same verse. "When doubts filled my mind, your comfort gave me renewed hope and cheer." The words that spoke to me were comfort, renewed hope, and cheer.
Where Do You Go?
Do you have a favorite chair or place in your house you go to curl up in because it is so comfortable? Picture a big, soft chair you sink into when you are tired. It is perfect for your size and height. Therefore, you feel comforted because your legs reach the floor, and you're supported. This resting place is not too straight or too slouchy, and it enfolds you in warmth when you sink into it.
Not only is it comfortable, you feel rested and revived when it's time to get up and leave the chair. You feel comforted, restored, and cheered in knowing that chair will be there waiting for you ANYTIME you need it.
Let's compare that analogy to Psalms 94:19, "When doubts filled my mind, your comfort gave me renewed hope and cheer."
God provides His presence for us to sink into. His comfort is perfect for our individual size. It supports us in anything we may face or have doubts about.
We can rest there and feel revived and restored until the next time we need to sit there.
What We Have Learned
So, here are three things we have learned about.
Hope is always there waiting for us.
God's comfort renews our hope.
God's comfort brings us cheer.
After praying two days in a row and waiting for God to "speak" to me, I believe He wanted me to hear,
"Karyn, I love you, and I've got this!"
I still don't know the results of all the scans and tests, but I am learning to sit in the "easy chair" and soak up God's comfort, hope, and cheer. Yes, it takes time, patience, consistency, and the willingness to sit still and listen to God. I'm a work in progress, but I keep trying!
I can testify that communing with God is the answer to overcoming doubt.
This blog post came from the latest Open Your Treasures Podcast. Click below to download the transcript. INSIDE THE TRANSCRIPT YOU WILL FIND THE LINK TO YOUR FREE GIFT! 
My grandson, Jackson, shared this song with me three years ago, and it still ministers to me today! Click below to listen to "Overcomer" by Mandisa
 Download and Print This Reflections Page for you to Record Your Scripture, Thoughts, and Prayers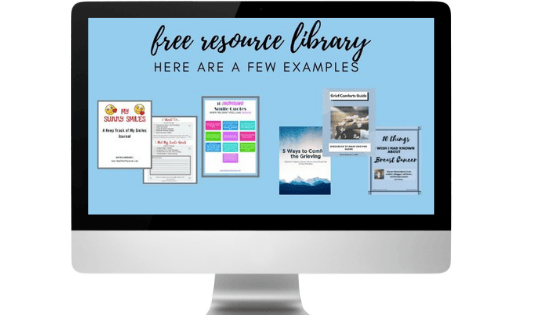 Live healthier, happier, and better! Sign up with your best email to receive weekly email newsletter TIPS and TOOLS for HELPING your body, mind, and spirit! Get access to our Resource Library with free downloads! You may read my Privacy Policy here.