When faced with a serious diagnosis we never expected, we may ask, "Where is God in my cancer?"
 I'm pretty sure anyone who has heard the words, "It is cancer," has asked God, "Why me?"
I love this quote by an unknown author:
"God didn't promise days without pain, laughter without sorrow, or sun without rain, but He did promise strength for the day, comfort for the tears, and light for the way."
Why Me?
They say we often write (or podcast) what we need to hear.
I have recently learned I have Multiple Myeloma, a blood cancer. After surviving breast cancer three years ago, this is quite a blow! So, I want to share my journey with the ups and downs and especially what inspires and comforts me.
A life-threatening diagnosis of any illness may cause us to ask questions, have doubts and fears, and perhaps test our faith. The uncertainties throw us and our loved ones into a whirlwind of erratic emotions, long periods of waiting for test results and treatment options, second opinions, financial challenges, and more.
Now with Covid thrown into the mix, when cancer attacks our bodies' immunities, we may face isolation from friends and family. Church attendance is out of the question. Gratefully, we can use technology such as Zoom to connect with those we love and care about.
I pray these words will encourage and comfort you and anyone you know who struggles with cancer or debilitating illness.
 I haven't found an answer to the question, "Why Me?' I have found comfort, assurance, and peace in scriptures! 
The first one is from Matthew 10:30-31
"But the very hairs of your head are all numbered. Therefore, don't be afraid. You are of more value than many sparrows."
The Bible says He knows every hair on our heads. Therefore, He must know when we are shocked, scared, devastated, and perhaps even angry.
Yes, He knows, He values us, and He is still steering the ship.
Let's look at more of God's promises that explain where He is and what He is doing… even in cancer.
 Where Is God?
God was with the Israelites of the Old Testament, He was with all who lived during Jesus' life, and as believers in Christ, He is with us through His Holy Spirit today.
He led Israel out of Egypt to the Promised Land with a pillar of fire by night and a pillar of smoke by day. Where that pillar went, they went.
After wandering in the desert for forty years, Moses died and Joshua was chosen by God to lead his people through the Jordan River to take possession of the land He had promised them.
 Joshua feared he was not capable of leading all those people across the Jordan River and fighting those who occupied the land.
 God reassured Joshua just as He reassures us today,
"Be strong and courageous. Don't be afraid. Don't be dismayed, for Yahweh your God is with you wherever you go." —Joshua 1:9
In the New Testament, when God reassures Joseph concerning Mary's pregnancy, he tells him that the one to be born of Mary would be called Immanuel, or "God with us."
 Jesus was Immanuel. He was God, in human form, living and moving among all until his crucifixion and resurrection.
 For us living today, as believers in Christ, God is now with us in a more intimate and personal way. Before Jesus died, he promised that God would send another advocate, comforter, and counselor to live in us ALL THE TIME!
John 14:16-17 says,
And I will pray the Father, and he shall give you another Comforter, that he may abide with you for ever;  Even the Spirit of truth; whom the world cannot receive, because it seeth him not, neither knoweth him: but ye know him; for he dwelleth with you, and shall be in you.
What does this mean? It means that no matter what comes my way, the God who created the universe lives in me. He comforts me, teaches me, and equips me to fights the battles He has already won!
 Years ago, I lost a close friend to breast cancer, which she battled three different times several years apart. Each time, going through debilitating treatments, she and her family held on to hope that God would heal her cancer. She became a joyful blessing to all around her, but God did not heal her. Eventually, her cancer took her home to Heaven.
One day, she came into my classroom during my break and asked me if I knew where to find the verse about God holding our right hand. I searched until I found Isaiah 41:13. So many times I think of her, especially now, as I am hanging on tight to the same verse.
Isaiah 41:13 (NIV) says,
"For I am the Lord your God

who takes hold of your right hand

and says to you, Do not fear;

I will help you."
Upon sharing this verse with her, I remember her huge smile and the sparkle in her eyes. She overflowed with gratitude and joy as she thanked me.
Now I understand the strength of her faith in God, and how Christ was her source of joy and hope. She pictured God holding her right hand, assuring her that He would always be there comforting and supporting her.
He kept His promise. He held my friend's fears and doubts at bay, strengthened her to withstand her treatments and still come to work, all the while blessing her friends, co-workers, and family. She certainly strengthened my faith, and I am grateful.
This verse does not promise God will heal every disease or make our lives comfortable. It does promise that He will take us by the right hand and help us calm our fears and anxiety!  Hallelujah! What comfort!
What Does This Mean for Me? 
I haven't yet started my treatments, and I don't know how serious the side effects will be. I have no idea if the treatments will stop cancer from destroying my white blood cells. If they work, and I go into remission, there is no guarantee how long it will last.
 So many unknowns and reasons to fear. Like Joshua, I am not confident I have what it takes to fight my battles.
 What I do know is that I belong to God, He lives in me day and night, and He holds my right hand and fights for me.
 What hope and comfort!
I have cancer, but cancer does NOT have me…
God does!
Prayer
Father God, thank you for your promises to be with us anywhere we go or during anything we go through. Help us greet each day with confidence that You hear us, hold us, and continue to steer our ships. We love and trust You. Amen.
This blog post came from the latest Open Your Treasures Podcast. Click below to download the transcript.
Music is such a spiritual gift that comforts and strengthens us. Click below to listen.
 Download and Print This Prayer Poster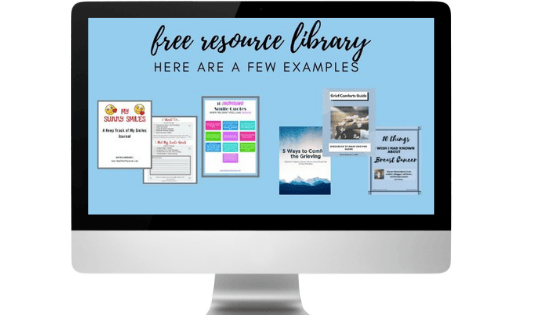 Live healthier, happier, and better! Sign up with your best email to receive weekly email newsletter TIPS and TOOLS for HELPING your body, mind, and spirit! Get access to our Resource Library with free downloads! You may read my Privacy Policy here.