You Are Not Alone
When was the last time a close friend reminded you that you are not alone? When hearing bad news, especially, "You have cancer," do you feel as if you are on a desert island with nowhere to turn? What will happen next? Where will you get the support and prayers you need?
After beating breast cancer three years ago through surgery, diet, nutrition, and exercise, the doctor's news I have multiple myeloma hit me like an insurmountable wave too enormous for me to swim through.
Myeloma is a rare blood cancer that attacks the healthy blood cells in plasma (bone marrow). Sixteen out of 1.000 people get this chronic disease. It is 1/10 as common as breast cancer.
So, this cancer has nothing to do with breast cancer. But the blood tests my faithful oncologist orders every six months alerted her to something abnormal. Then, the tests began.
Consequently, the test that positively diagnosed the myeloma was a bone marrow biopsy.
What Do I Write About Now?
If you have been following these blog posts and podcasts, you know the subject matter is living with hope in difficult circumstances.
Here is a link to the first blog/podcast, titled Finding Hope. You can find more hope-filled articles here.
After praying about this content, God sent me a devotional through a close friend, Jed Kovach, that I would like to share with you.
The title is "You Are Not Alone," and it concentrates on Hebrews 12:1-3.
Hebrews 12:1-3 says,
"Therefore, since we are surrounded by such a great cloud of witnesses, let us throw off everything that hinders and the sin that so easily entangles. And let us run with perseverance the race marked out for us, 2 fixing our eyes on Jesus, the pioneer and perfecter of faith. For the joy set before him he endured the cross, scorning its shame, and sat down at the right hand of the throne of God. 3 Consider him who endured such opposition from sinners, so that you will not grow weary and lose heart." NIV
He shares how these verses are some of his favorite scriptures in times of testing and trial. They reminded him of when he ran XC (cross country) in high school.
Finishing a race strong is essential!
2 Timothy 4:7 says,
"I have fought the good fight, I have finished the race, I have kept the faith."
Therefore, God is nudging me to openly share the race I am running and my struggles, fears, and faith builders.
We are not sure yet what treatments the most recent tests will dictate, but running this race with faith is my goal.
This is an excellent quote by Robert Louis Stevenson.
"Life is not a matter of holding good cards, but of playing a poor hand well."
My mission for my blog posts and podcasts is to play my poor hand well and share God's faithfulness and mercy with you.
I am human, and I admit it. Extreme sadness, fear of what's next, and even anger followed my diagnosis of this incurable blood cancer.
I kept putting off writing the script for this podcast, praying for God to give me wisdom and guide my writing.
He answered my prayer when Jed sent me this devotional and permitted me to share it with you.
Here are his uplifting and comforting words.
 My Friend's Devotional, "You Are Not Alone"
"Good morning, Karyn. Here is your Sunday morning devotion. ?."You are not alone in this challenge." ?Hebrews 12:1-3 is one of my favorite scriptures in times of testing and trial. It reminds me of when I ran XC (cross country) in high school. ??Now in verse 1:
(a)     You are surrounded by a great crowd, a multitude of witnesses: people, family, and friends, near and far, past and present, who love, care about, support, and want to encourage you. We are struggling with you, praying for, pulling for, and cheering you on in this race. Something to be thankful for…huh?
(b) We must put aside the things that easily entangle and hinder us in this race. Then, the strong exhortation to "run with perseverance" the race that is set before us. ("Run, Karyn!!! RuuuUUUNNNNNNNN!!!"). The course of this race may sometimes be unclear. But we must run…run with perseverance, power and strength, love, grace, peace, faith, hope, patience, fortitude, determination, courage, healing, and repentance and forgiveness.
(c) something else to be thankful for. Verse 2 holds the key: LOOK AT JESUS! He is the One who authored all of these spiritual qualities and is developing them in us. The Father has freely and graciously given all of these things to us in the Son and the eternal life that He died and rose for…for us! Now He is at work within us by the power of His Holy Spirit to accomplish His will and good pleasure in us.
More Encouragement
We "look" to Jesus because He is our Example, and He has given us an example of how to run this race. Then we  "consider" Him and how He handled Himself in His race. Finally, we must then follow Him in that race so that we will not grow weary and lose heart.
His grace is upon you, Karyn. Psalm 27:13-
Psalm 27:13-14  New King James Version
I would have lost heart, unless I had believed

That I would see the goodness of the Lord

In the land of the living.

Wait on the Lord;

Be of good courage,

And He shall strengthen your heart;

Wait, I say, on the Lord!
Jed
 What Race Are You Running?
In conclusion, we are all running our individual races. How do we finish strong and keep our faith?
One thing I know for sure, I won't let CANCER define or control me. I will look to God with hope and joy to be my strength and to comfort my family.
Regardless of what challenges you face or how steep the climb, rest assured YOU ARE NOT ALONE!
Most importantly, let's reach out in prayer to God, have faith that He will provide everything we need to finish strong, and accept our friends and family's help to lead us to victory.
PRAYER:
God, we thank you that you provide everything we need to run our race and keep believing. Please shower your peace, comfort, and healing on all of us who have cancer. Draw us closer to You, trusting you to surround our families with love and comfort also. Amen.
This blog post came from the latest Open Your Treasures Podcast. Click below to download the transcript. INSIDE THE TRANSCRIPT YOU WILL FIND THE LINK TO YOUR FREE GIFT! 
Fernando Ortega sings a beautiful rendition of, I Need Thee Every Hour.  Click below to hear it on Utube.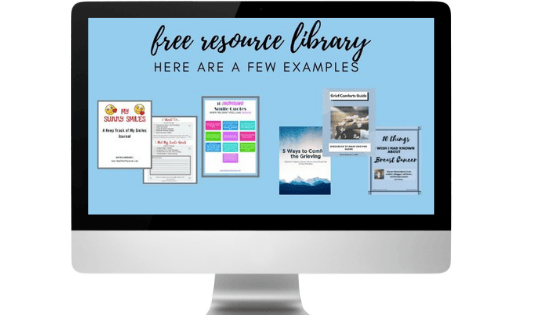 Live healthier, happier, and better! Sign up with your best email to receive weekly email newsletter TIPS and TOOLS for HELPING your body, mind, and spirit! Get access to our Resource Library with free downloads! You may read my Privacy Policy here.